Amazon Bootcamp: Becoming a resilient business – Enterprise Nation
May 26 @ 9:30 am

-

12:30 pm

Free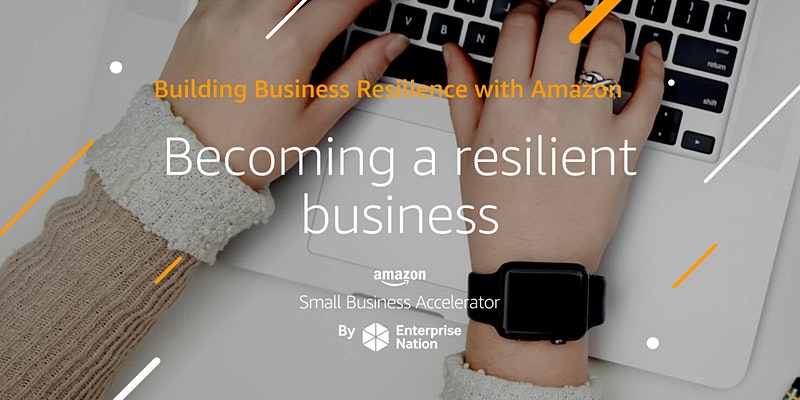 Amazon Bootcamp: Becoming a resilient business
Join this three hour online bootcamp to learn how to combine online and offline sales to become a true omni-channel and resilient retailer. Hear from experts and founders who have been on the omni-channel journey.
Agenda:
09.30am: An introduction to LiveStream Retail – what is it and how can you build into your brand and business
10.15am: Delivering delight – how great customer service (online and off) can encourage customers to keep coming back
10.45am: Break
11.00am: Purpose and Profit – how having a brand with purpose sells well both online and In Real Life (IRL)
11.30am: People and talent – what are the skills required to lead an omni-channel business and how to secure talent to power your company
12.00pm: Sustainability in business – how to build sustainability into your business practices and deliver positive results for the planet – and your profit.
12.30pm: Event end
What is the Amazon Small Business Accelerator?
Read the FAQs to learn more and sign up to attend today.
The Amazon Small Business Accelerator is a programme designed to help people Start, Grow or Turbo-charge their business depending on their needs with access to e-learning, bootcamp trainings to help people get trading online quickly, as well as events, tools and services. Developed by Enterprise Nation and Amazon, we want to support every type of business, from start-ups to scale-ups and established small businesses looking for easy-to-access training and tools to help them succeed in the digital world.
What are the bootcamps? The bootcamps are live events with intensive training. They are focused on helping offline businesses get online.
How do I join? Simply fill in the registration form on Eventbrite. You will then receive an automatic email from GoToWebinar with the link to access the event. The event will run from 9.30am to 12.30pm GMT on Thursday 26 May. If you don't receive the link within two hours of signing up via Eventbrite, please let us know by emailing events@enterprisenation.com (Please note, it may be in your junk folder).
How much will it cost? The education you will receive in the bootcamp is free.
I'm a start-up. Can I join? Yes – the bootcamps are designed for existing small and medium businesses to help grow and build resilience.
I'm an established business. Can I participate? Yes – the bootcamps are designed for existing small and medium businesses with less than a quarter of sales online, to help grow and build resilience.
What are the benefits of attending? You will get 3 hours of free training and support on how to grow your business, from a range of experts. We will also send you the recordings over email.
Where can I find more information about Amazon and selling on Amazon? You can find information about selling on Amazon here.
What do I do next? Simply fill in the registration form and you will receive the GoToWebinar link to join on Thursday 26 May.
---