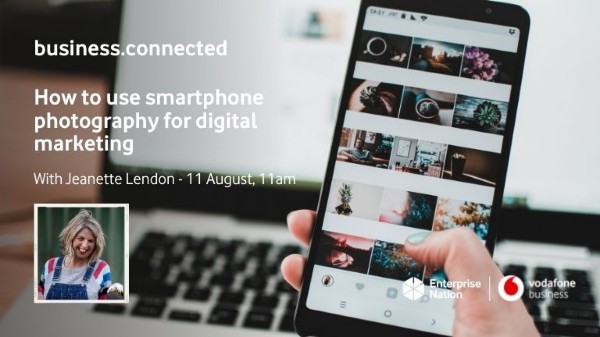 In this free 30 minute business.connected workshop, digital expert, Jeanette 'Jet' Lendon will offer key insights into how you use your smartphone camera to take great photographs to include in your marketing. 
 
Key session takeaways include: 
 
– How to take great photos, to sit alongside your professional shots and help support your business marketing. 
– How to get the best out of your smartphone camera  
– Learn what apps you should be using to support your photography. 

During the workshop, you'll also have the chance to ask Jeanette any smartphone photography questions.
 
How to join the workshop
Once you have registered to attend the workshop, you will be sent an email confirmation containing a link to join the workshop via Zoom. Please use this link around the time of the event to join.
Enterprise Nation are partnering with Vodafone Business to equip 150,000 small and medium businesses with the digital skills they need to take their operations to the next level.  
The free training programme – delivered exclusively online, and consisting of workshops, webinars and e-learning modules – will empower businesses to kickstart digital change, adopt new technology, and stay safe online.  

For more information, visit the business.connected support hub.