Business Excellence – Ideas into Action – Lancaster University Management School
November 8, 2022

-

November 22, 2022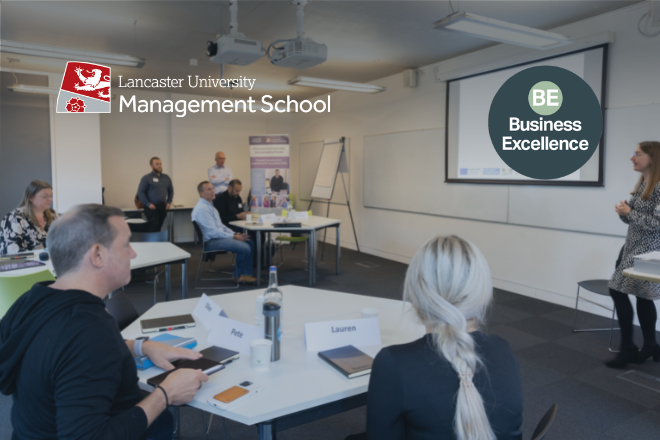 Ideas into Action
This programme will allow you to take the time to work 'on' your business rather than 'in' your business.
It will lead you through a step-by-step process to analyse and test idea potential and then look at significant 'power moves' to progress innovation to give you the clarity, focus and breakthrough you need to take action to innovate, develop and grow your business.
Programme dates: 8th & 22nd November
Enquire now for Ideas into Action
Explore and prioritise a range of ideas to take your business to the next level of sustainable, profitable growth
Apply assumption-testing and decision-making techniques to identify potential routes to commercialise your ideas using input from your peer-learning group
Start to shape the core of the business plan and roadmap to get your idea off the ground
This programme will be delivered in-person over two sessions including the following content:
Idea development: This workshop begins with an overview of the innovation process, from idea to commercialisation. You will be introduced to the "power moves" principle that will underpin this programme. Receive peer feedback to help select your most promising ideas, and using tools presented in the workshop you will begin to develop those ideas.
Minimise risk, move faster, spend less: Review how you might test your ideas quickly and effectively to accelerate your progress and create a Minimal Viable Product outline for your idea, ready for testing. Carry out surface and test assumptions about your ideas. Get fresh perspectives from your peers and draw out the 'known unknowns' and identify actions to test your idea in reality. Work through a step-by-step process to help with innovation decision making and shape the headlines of your business case.
Make your ideas happen: Work with your peers to review the key barriers in the way and factors to accelerate innovation and create an action plan. Identify actions that will make significant impact to your innovation process and create an innovation roadmap to build clarity and momentum.
Workshop location: Lancaster House Hotel, LA1 4GJ
About the Programme
Lancaster University Management School has developed a range of programmes to be delivered over 2022.
Ideas into Action: starts 8th November
Each face-to-face programme will include workshops on two separate days, which are purposefully designed to be short, practical and impactful.
All programmes are fully-funded for eligible small and medium-sized (SME) businesses, and are designed to tackle issues that often present barriers to business growth.
These workshops are delivered in a safe and trusted peer-learning environment and designed to be highly interactive and create meaningful relationships to support you with moving your business forward.