business.connected: How to create newsletter content that works – Enterprise Nation
April 21, 2022 @ 2:00 pm

-

2:30 pm

Free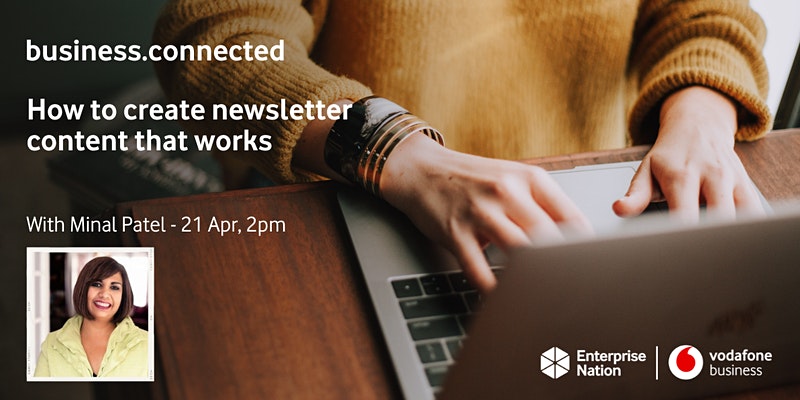 In this free 30 minute  business.connected workshop, digital expert Minal Patel will share her top tips to help you learn how to create a quick and easy newsletter and tick it off your list.
Session takeaways include:
How to write emails that work;
What to include in a newsletter and why;
Learn how to get an email newsletter written in under 15 minutes;
How to make sure your newsletter looks great and is typo-free
During the workshop, you'll also have the chance to ask Minal any burning email marketing questions.
Looking for further digital support?
Looking to boost your digital skills further? V-Hub by Vodafone is an online library and knowledge centre, offering content, tools and insights to help small-medium businesses. Not only that, but you can access free one-to-one support from expert business advisers. Visit V-Hub today.

About business.connected
Enterprise Nation are partnering with Vodafone Business to equip 150,000 small and medium businesses with the digital skills they need to take their operations to the next level.
The free training programme – delivered exclusively online, and consisting of workshops, webinars and e-learning modules – will empower businesses to kickstart digital change, adopt new technology, and stay safe online.
For more information, visit the business.connected support hub.