Lancashire Forum Creative: Think Differently Sprint by Centre for SME Development and Lancashire Forum Creative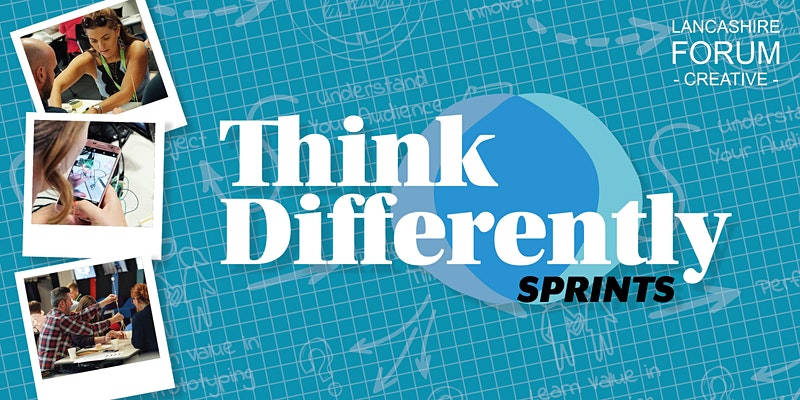 Lancashire Forum Creative popular all-day event helps Lancashire's creative and digital SMEs develop rapid change in their business.
About this event
Think Differently Sprint is Lancashire Forum Creative's take on the Design Sprint methodology. The programme aims to give you a hands-on experience to explore, accelerate and innovate ideas that will disrupt and transform your business.
What happens on the day
Following on from the successes of the physical and remote workshops, the sixth in the series builds on these unique experiences by offering a programme condensed into one day. Promoting the rapid thinking mindset, you will have time to ask questions, develop an idea and build up your knowledge of the process. The day is broken down into phases. Each phase provides you with the background information and worksheets needed to scaffold and frame your understanding. These worksheets will form part of the toolkit which you will receive upon completion of the Sprint. It has been designed by creative and digital people for creative and digital people.
Food and Drink: As this workshop runs from 8 to 8, a light breakfast, buffet lunch and pizza at teatime as well as hot and cold drinks throughout the day are included.
How a Sprint can help your business
Sprints help you develop ideas, re-think ideas, understand your customer needs, explore new paths for execution, reduce resources by effectively planning time on research and development. At the end of the day, you will have gained:
An understanding of the processes
Knowledge of the tools
A more informed way of empathising with your customers
Expertise in sketching, prototyping and iteration techniques
The event is presented by the Lancashire Forum Creative, the team you are familiar with from running the innovative leadership and business growth programme and in collaboration with and facilitated by the Media Innovation Studio's Think Differently project at the University of Central Lancashire. The workshop will be facilitated in-person at the Creative Innovation Zone, University of Central Lancashire.
See what we got up to during the previous in-person workshops:
#1 Sept 2019 https://www.youtube.com/watch?v=77HDwzLZcBI
#2 March 2020 https://www.youtube.com/watch?v=cnT7cMf8kzg