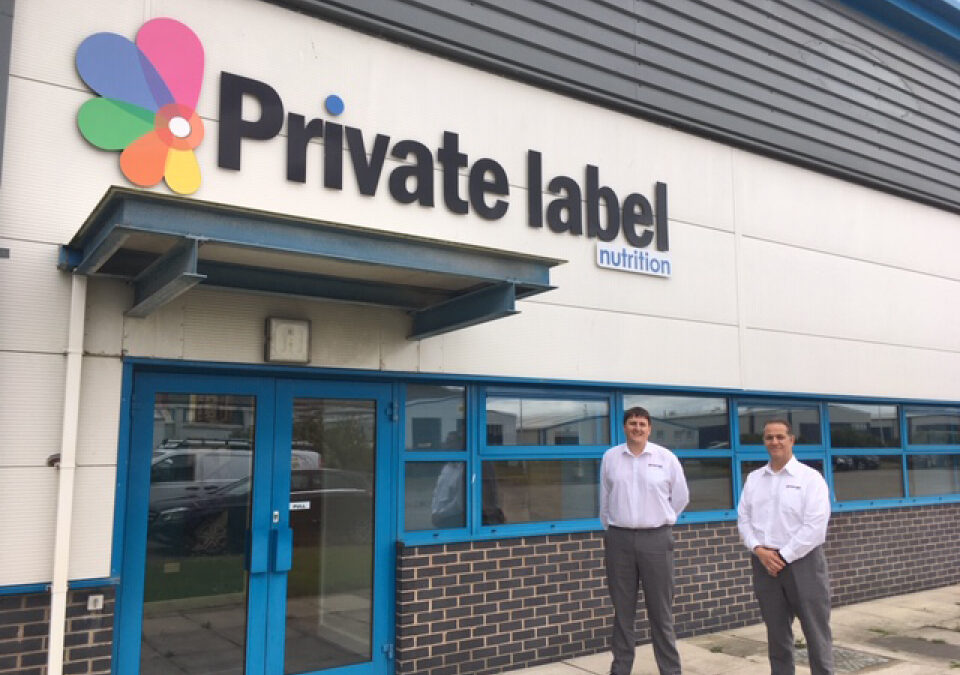 How Private Label Nutrition achieved healthy growth at Blackpool Enterprise Zone
Private Label Nutrition manufactures health and sports supplements for clients all over the globe. 'Blackpool - the place for business' spoke to James Wilson and Richard Richmond about their business' exponential growth, and the support that helped them achieve it.
Private Label Nutrition supplies supplements and powders to wellness and sports nutrition customers the world over. "Anything from tablets and capsules to functional powders, the kinds of things you'd see in a gym or in a health food store – Vitamin C, cod liver oil, matcha, whey powder," explains James Wilson. "We source materials and then manufacture those goods in a custom-built facility to wholesale customers."
"Blackpool has been a great location for us," says James. "Being in the Enterprise Zone has been very helpful, especially in terms of business rates.
"This area is a bit of a hub for the nutraceuticals industry," adds Richard. "There are a number of similar businesses locally."
The business hasn't always been located at Blackpool Enterprise Zone, however – the move came as a result of needing more space to grow.
"We started out in an 800 square foot space four years ago. We've moved locations twice and developed to the point where we now have 22 staff and use custom industrial machinery to produce our tablets and powders."
Council support
"The Business Support Team, Blackpool Unlimited Blackpool Council has been instrumental in helping us develop our business right from the start. That's been important because we've grown very quickly," explains Richard.
"We've had some brilliant support from them," James agrees. "And in turn, they've pushed us towards opportunities like Made Smarter grants, which help digitize parts of our process."
Another way Blackpool Council has supported the team is by helping them build their local network, in particular by making connections with the area's universities.
"We're working on some exciting new partnerships with UCLAN and Lancaster University at the moment around our environmental credentials," says James.
Collaborating towards zero carbon
"Our aim is to be zero carbon by the end of 2020. With UCLAN, we're analysing our processes and finding out what the environmental impacts of those are. And with Lancaster University we're involved in a scheme which assists businesses in reducing and offsetting their carbon footprints."
"We were connected with that scheme through Blackpool Council. We were given the opportunity to talk at an event the council organized. Both universities approached us after hearing about our goals, offering ways to take it further."
"I love Blackpool," says James. "I was brought up here and chose to come back after moving away. We have a lot of staff who work here and have moved into the area, and it's a great place to work and to bring children up. It's a really positive place – it has a buzz about it."
The Blackpool difference
"On a more practical note, we're also well-connected by road to the rest of the UK. We have affordable real-estate costs and non-inflated wage costs, all of which is beneficial."
"When we set up our new £400,000 manufacturing facility, we were told that it would make sense to set up somewhere like Blackburn or Chorley. But we felt it was important to stay in Blackpool. We like the fact that we come from Blackpool, we're within a nutraceutical manufacturing hub and we want to support the area in the same way the council supported us when we moved into the Enterprise Zone."
"We have had a great experience with staff in the area, in terms of consistency and low turnover. People seem to settle here and want to stick with the job, particularly as it's year-round rather than a seasonal opportunity."
Being located in Blackpool has helped Private Label Nutrition in plenty of practical ways, from their collaborations with the council and universities to having access to the Enterprise Zone scheme and a high-quality local workforce. It's also added a certain 'Made in Blackpool' passion and pride to their brand which has helped them grow from strength to strength.